Athletic Blend
Naturally 55% higher in caffeine, with notes of Dark Chocolate and Walnut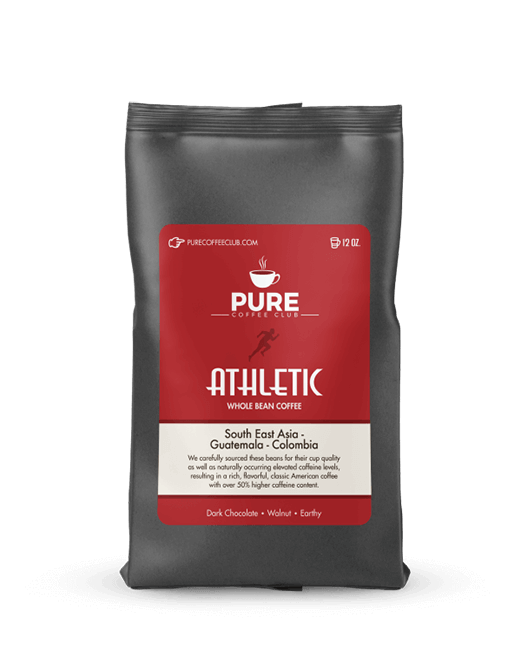 8oz: 10.97  |  12oz: 15.97
Athletic Blend
One of my favorite childhood memories is winter fishing, deep down on the Bayou with my great-grandfather, Papa Tripode. The air on the Bayou in winter is icy cold, and Papa Tripode always carried with us a small gas stove on which he would set to the task of brewing up a much-needed, piping-hot cup of good Cajun coffee. I remember how he would pour the rich, steaming liquid into our blue enamel mugs and we would sit down on a fallen tree trunk to sip the aromatic, earthy brew.
I remember that coffee well, not just for its rich, deep taste, but for that extra jolt of energy it would give us on those frigid mornings. When I started PCC I wanted to create a coffee reminiscent of Papa Tripode's legendary cup, with that great taste and that extra caffeine kick, so I sought out the best, most complex tasting beans, and carefully blended them with beans with naturally occurring elevated caffeine levels. With 55% more naturally occurring caffeine, our potent Athletic Blend packs a powerful punch, but doesn't sacrifice anything when it comes to flavor.  It's rich, smooth, and earthy, with subtle notes of dark chocolate and walnut. I drink it to power up my workouts and when I need to perform at my best. Who needs monsters, rock stars, and red cows to get you going when you can have NATURE's energy drink?
Enjoy!
Vinnie Tortorich
Founder, Pure Coffee Club
REGION

Southeast Asia produces coffees with pleasant earthy notes, and a mild sweetness, as well as elevated caffeine levels.
Guatemala – Sweet milk chocolate and caramel notes are why Guatemalan coffees are so popular, and are a component in so many great blends.
Colombia – among the finest coffee producing regions in the world, Colombia is known for producing coffees with a fine, balanced body and acidity, complemented by notes of nuts and floral chocolate.
LOVE THE FLAVOR
Coffee is awesome. I've had my share of coffee and of varying awesomeness. Waking up and starting my day with a fresh ground and pressed cup of any of the Pure Coffee Club roasts, is a beautiful experience. With so many other cofffees on the market, it's rare to be impressed by "another" cup of coffee. Pure Coffee Club takes it to a whole other level. It kicks starts my day and give me the energy I need to create and perform. It's something special. It's the super awesomest coffee on the planet! -Ruel Abadam
The best coffee i've had
I am totally in love with PURE COFFEE CLUB. This is by far THE best coffee I have ever tasted. It is so smooth, robust, and full of flavor. It is absolutely delicious! I have only tried the house blend, but, I can truly say that I can't wait to try the other two. The coolest part is that it gets delivered to my home! Kudos to Pure Coffee Club for making such an awesome coffee. I can't say I'm surprised, since these are the same folks who bring us Pure Vitamin Club. I can't wait to see what else this amazing company comes up with!  -Olenka
Athletic Blend is My Fav
I'm excited for the launch of the new Pure Coffee Club. I've sampled three of the beans and the Athletic blend stood out as my favorite. Maybe because I'm quite athletic?! I'm looking forward to learning more of the back story behind each coffee selection, its design, purpose, and the stories in general. All of the coffees sampled are rich with flavor, smooth and balanced. Once again, I'm excited for the "Pure Launch" of PCC. –Scott Mulvaney
PURE COFFEE, NO BS
Pure Coffee Club seeks out the finest specialty coffees from around the world. Our Master Roasters use their extensive expertise to find the best and rarest single source coffees and create the most exciting and well-balanced blends possible. The results are uniquely satisfying flavor profiles.