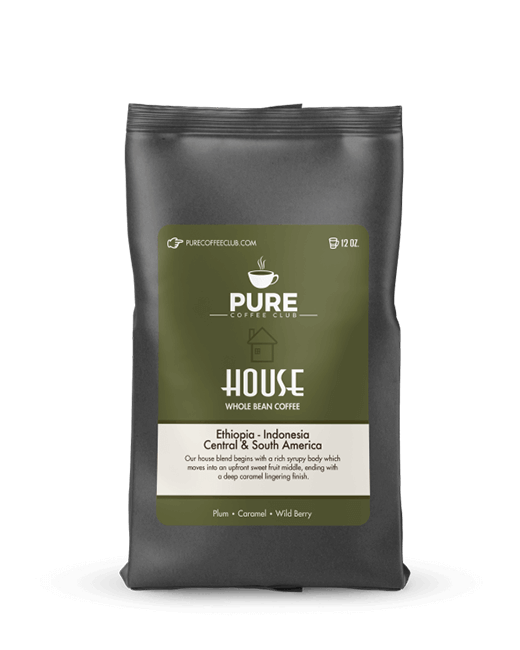 8OZ: 11.97  |  12OZ: 16.97
Our house blend begins with a rich syrupy body before it moves into an upfront sweet fruit middle, ending with a deep lingering caramel finish.
The obvious notes of plum, caramel, and wild berry make it a complex, balanced, exceptionally flavorful coffee that satisfies all day long.
The flagship of Pure Coffee Club is our House Blend. We designed it to be a complex, balanced, exceptionally flavorful coffee that satisfies all day long.
By blending the finest specialty-grade coffees from Ethiopia, Indonesia, and both South and Central America, we've come up with a coffee that starts with a rich, syrupy body, moves into an upfront, sweet fruit middle, and ends with a deep chocolate lingering finish. Rich and inviting, this is a coffee you will come back to again and again.
By combining beans from these different regions, and using a classic American roast, we've also achieved a balanced acidity level and a comforting, familiar flavor but with more complexity. The Ethiopian beans bring the densely sweet berry notes, which is then complemented by the pleasant earthiness of the Indonesian beans, all rounded out by the balance and smoothness of the Central American, and the rich caramel of the South American.
REGION
Ethiopia – the birthplace of coffee. Coffees from this region bring pronounced fruit and mocha flavors.
Indonesia – prized Indonesian coffees have a low acidity level, with a deep, syrupy body, notes of grapefruit, and a pleasant earthiness.
Central America – from the highlands of this region come exceptionally well balanced coffees, with medium body and acidity levels, and notes of chocolate and brown sugar.
South America produces a wide range of coffee choices – from the soft nuttiness of Brazilian beans, to the floral chocolate notes of the Colombians.